DR. ATA-UL-HAQ (MBBS, FCPS)
Board Certified Plastic Surgeon in Lahore, Pakistan.
Dr. Ata Ul Haq Graduated from Rawalpindi Medical College in 2000 and did Fellowship in General Surgery in 2006 and Plastic Surgery in 2011. Furthermore, in 2014, Dr. Ata received the BAPRAS Fellowship in Microsurgery from the United Kingdom. He serves as a consultant plastic surgeon in Lahore at Jinnah Hospital / Allama Iqbal Medical College Lahore.
Dr. Ata-Ul-Haq is a plastic surgeon in Lahore, Pakistan, certified by a board. Dr. Ata wants to help you get the results you've always wanted while giving you the best possible recovery. Since 2011, Dr. Ata Ul Haq's clinic in Johar Town, Lahore, Pakistan, has offered plastic and cosmetic surgery services to people who pay for them. Overall, Doctor Ata has over 15 years of experience as a plastic surgeon in Lahore, Pakistan.
Dr. Ata Ul Haq is a trained microsurgeon who likes to help people with leg and foot injuries. He also helps people with diabetic feet. At the Jinnah Burn and Reconstructive Surgery Centre, Dr. Ata is in charge of the service for the lower limbs. Since 2007, Doctor Ata has been an active member of the organizing team for the annual international microsurgery and burn management course hosted by Jinnah hospital and Allama Iqbal Medical College. 9 articles written by Dr. Ata Ul Haq have been published in national and international journals. He has also taken many courses and attended many national and international conferences to keep his knowledge and skills up to date.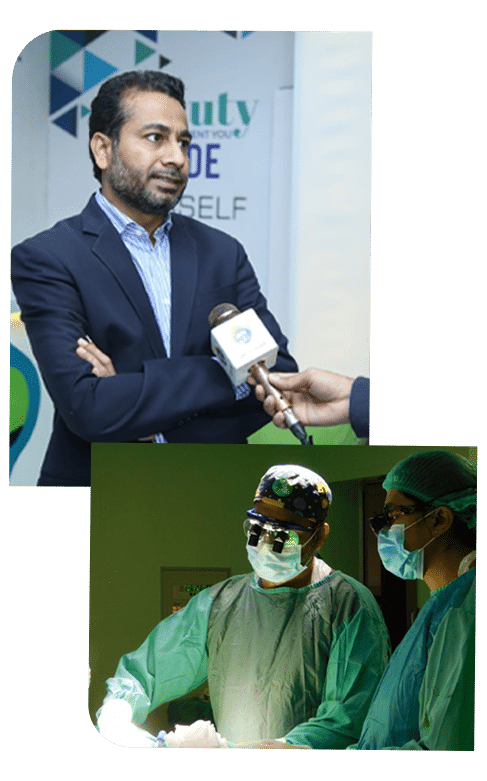 Assuming, you are a new patient, then, at that point, feel free to contact our expert. 
Committed To Plastic Surgery Excellence
We Create Beautiful and Brighter Lifes
You will surely get excellent Plastic Surgery Near your area. Thereupon book your appointment today. Dr. Ata is committed to offering a safe surgery process under best-examining tools and he is concerned and takes care of your wellbeing.
Dr. Ata Ul Haq
Master of Plastic Surgery
Complete Care on Your Schedule
Bringing Life to Your Smile
We Have All Your Needs Covered
Liposuction is a technique used for fat suction to reduce excess fat from body parts such as the neck, arms, buttock, thighs, hips, and abdomen, and imparts shape to them.
Gynecomastia is a gain in the size of gland tissues of breasts both men and women, caused by an imbalance of testosterone and estrogen hormone. It may affect unevenly or on both breasts.
A Hair Transplant is a strategy where a dermatological or plastic specialist moves hair to an exposed region of the head. The specialist for the most part moves hair from the side or back of the head to the top or front of the head.
Double Chin Surgery procedure can shape the region of a neck lift, jaw fold, or chin liposuction, likewise, eliminating excess fat to even, and smooth the skin.
15% OFF on All procedures*
Fill up the Form and Ask Your Queries
Creating Vibrant lifes for Healthy Lifestyles!
Dr. Ata is very professional in his work. Listen to all my reservations very carefully and then guided me about every procedure that can be possible. I would highly recommend dr ata to all the patients who are looking forward for the treatment.
The services that I receive from (Dr Ata) is excellent. Dr. Ata and the staff are friendly and ensure that I am properly informed about my health and care. I would have no qualms in recommending them to friendly and friends.